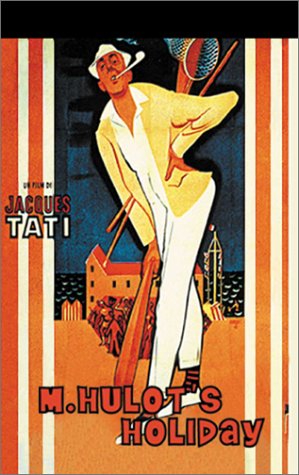 Starring: Jacques Tati, Nathalie Pascaud Director: Jacques Tati
Plot Summary
Genres: Comedy
Tagline: It's laugh-vacation time as Jacques Tati romps through the most gloriously mad lark ever to tickle the ribs of young and old alike!
Plot Outline: Monsieur Hulot comes to a beachside hotel for a vacation, where he accidentally (but good-naturedly) causes havoc.
Plot Synopsis: Monsieur Hulot goes on a holiday to a seaside resort, but accidents and misunderstandings follow him where ever he goes. The peace and quiet of the hotel guests don't last very long with Hulot around, because although his intensions are good, they always turn out catastrophically.
Amazon.com Video Essentials206205
Forefather of Rowan Atkinson's Mr. Bean, Jacques Tati's Monsieur Hulot--a recurring character in several of his movies--is a blithely clumsy troublemaker, an insouciant twit who leaves uproar in his wake without being aware of it. Trying to describe this 1953 comedy is next to impossible except to say it is a series of vignettes at a vacation resort, with the distracted Hulot providing a lot of laughs. Tati directs, and in a way what that really means is that he composes this movie with a perfect eye and ear for the comic possibilities in everything: composition, lighting, minimal marble-mouth dialogue, certain sounds (a duck call, a door repeatedly opening and shutting). This is a superior work that ranks among all-time classic comedies. --Tom Keogh
Video Description
Jacques Tati introduces his wonderful character Mr. Hulot in this wildly funny satire of middle-class vacationers on a summer holiday. Tati portrays the endearingly eccentric Hulot, whose presence at a very proper French seaside resort provokes one outrageous catastrophe after another. Considered by many to be Tati's funniest film, Mr. Hulot's Holiday pays homage to the great classic silent comedies with a hilarious blend of colorful characters, sparse dialogue, impeccably timed sight gags, and an innovative sound track.